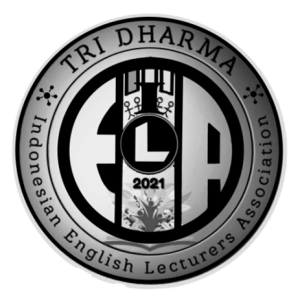 IELA which stands for Indonesian English Lectures Association is a non-profit professional organization that unites lecturers and teachers teaching English to enchance and empower their professional development through collaborative works and academic activity forums. This association is a home of Indonesian English lecturers and teachers to gather, share, and collaborate through some academic programs and activities.
What are the IELA's programs and activities in general?
IELA has some professional programs that facilitate and support its members to empower their professional development especially related to the English Language. The IELA main programs are Teaching, Research, and Community Service. Meanwhile, the IELA's activities are mostly related to Tri Dharma Perguruan Tinggi which can be platforms to run the programs and to achieve the vision. The IELA's activities are Collaboration, National & International Webinar, Research Paper Analysis, Journal Management, Group Sharing, Training, Learning, Reviewing, and Gathering.
IELA's history
IELA was initiated by several initiators who deem to greet and to share their knowledge with other Indonesian English lecturers.
IELA was founded by the president of IELA (Associate Professor Dr. Daniel Ginting) and vice president of IELA (Fahmi, M.Pd.) together with other English lecturers around Indonesia who have the same vision and mission, especially in enchancing academic professional development.
IELA was inaugurated on Friday, January 1st 2021 at 07.30 PM (19.30 WIB, Indonesia Time).
It was established to facilitate and accommodate any English lecturers through several academics programs that can support their development in the Teaching, Research, and Community Service (TRI DHARMA).
IELA is domiciled and based at Islamic University of Zainul Hasan Purbolinggo, Jl. Panglima Besar Sudirman No. 360 Semampir, Kraksaan, Probolinggo 67282 East Java.
IELA's Vision
IELA has a vision that is to become a modern, independent, and professional English lecturers association.
IELA's Mission
Unites English lecturers from all over Indonesia.
Establishes cooperation with various academic institutions related to teaching, research, community services, and other fields related to developing the potential and professionalism of English language lecturers throughout Indonesia.
Carries out various academic programs at the national and international levels to achieve the implementation of Tri Dharma of Indonesian higher education.
Encourage collaborative activities or the exchange of ideas.
Grows the development of technology integration on English language teaching.
IELA's Logo
IELA's logo has a round shape consisting of three circles with black and white greyish.
On the IELA logo, there is a small white circle that symbolizes the IELA's board members (organizers). Meanwhile, the medium-thick black circle represents the IELA's members (members). The large thin black circle represents the scope of IELA activities, namely national and international.
The four letters I, E, L, A on the IELA logo stand for Indonesian, English, Lecturers, and Association.
The three bars on the IELA logo symbolizes the Tri Dharma of Indonesian higher education, namely Teaching, Research, and Community service.
The sentence Indonesian English Lecturers Association on the IELA logo represents the name of the association.
The leaves on the IELA logo symbolize 'Diversity'. Meanwhile, the people's picture symbolizes unity.
The book on the IELA logo represents 'Intellectual and Moral'.
The four numbers (2021) on the IELA logo represent the year of IELA establishment and inauguration.
IELA's Achievements
International Webinars
Book – Writing Collaboration
Article – Writing Collaboration
Paper Analysis
Scholarship Coaching
Public Speaking and Presentation Training
Knowledge and Experience Sharing
Book Club Establishment