IELA FIRST INTERNATIONAL CONFERENCE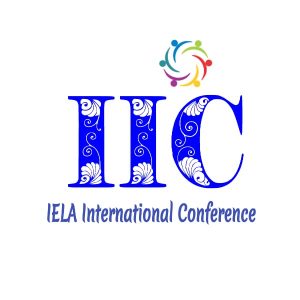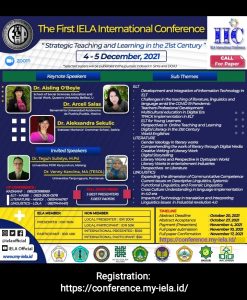 Indonesian English Lecturers Association (IELA)
. ✨PROUDLY PRESENTS✨
The First IELA International Conference (The 1st IIC) with the theme "Strategic Teaching and Learning on the 21st Century". 📑 We also call for paper with the scopes: ELT, Literature, and Linguistics.
📝 SAVE THE DATE📌
🗓️ 4-5 December 2021.
📍 Zoom
📲 Registration Link: https://conference.my-iela.id/
💎 FULL DOOR PRIZES for Presenters and Participants, 5 Best Presenters, & 5 Best Papers Award.
👥 KEYNOTE SPEAKERS:
👩🏻‍🏫 1. Dr. Aisling O'Boyle
School of Social Sciences, Education and Social Work, Queen's University Belfast, UK.
👩🏻‍🏫 2.Dr. Araceli Salas.
Benemérita Universidad Autónoma de Puebla, Puebla, Mexico.
👩🏻‍🏫 3. Aleksandra Sekulic
Svetozar Markovic' Grammar School, Serbia.
👥INVITED SPEAKERS:
🧑🏻‍🏫 4. Dr. Teguh Sulistyo, M. Pd.
Universitas PGRI Kanjuruhan, Malang.
👩🏻‍🏫 5. Dr. Venny Karolina, MA (TESOL)
Universitas Tanjungpura, Pontianak.
CONFERENCE CONTACT PERSON (CP)📞
👨‍💼 Main CP: 085230998989 (Kadnawi)
📊 ELT: 0823-3505-0578 (Hasbi)
📖 Literature: 081314146767 / 0895324434423 (Hendi)
📜 Linguistics: 082174414411 (Lola)
📌 ADDITIONAL INFORMATION:
We open the IELA Membership Recruitment through IELA website ( https://my-iela.id/new-registration/ ). Benifits as IELA member: ID Card, Research Collaboration, Book Collaboration, Opportunity as a speaker and moderator in our seminar.
Membership recruitment CP: 0819-5607-710 (Yusawinur Barella)