IELA-UMKT Successfully held 5th International Webinar on Teaching and Assessing during COVID-19 Pandemic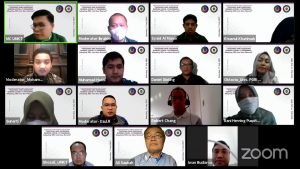 It has been acknowledged that Indonesian English language teachers have found a rather hard time switching from face-to-face to online teaching due to the COVID-19 pandemic. Even after a year since it first hit, bringing attractive yet effective pedagogical practices remains a big issue, considering that many teachers and students are still dealt with technological barriers. Therefore, ELT practitioners' journey of finding the most suitable online teaching methodologies is still on its roll.
With the spirit of looking for resolutions to this matter, the Indonesian English Lecturers Association (IELA) in collaboration with Muhammadiyah University of Kalimantan Timur (UMKT) initiated a virtual academic forum under the theme "Teaching and Assessing during COVID-19 Pandemic: Adapting TEFL into New Normal." This international webinar was successfully held on Saturday, July 17, 2021, led by three outstanding speakers namely Rachmi F. Suryadi, M.Pd (STIT Misbahul Ulum Gumawang, Indonesia), Prof. Ali Saukah, M.A., Ph.D. (UMKT, Indonesia), and Dr.Robert Chang (University for the Creative Arts, UK).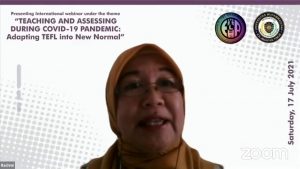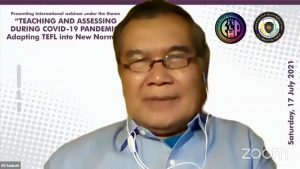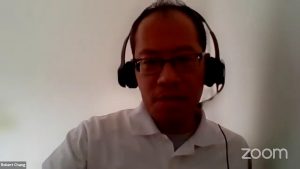 The first session by Rachmi F. Suryadi, M.Pd. titled "Mentimeter as an Option in Encouraging Students' Creativity in Online Learning" recommends Mentimeter as an alternative tool for fun and interactive distance teaching. The following session with Prof. Ali Saukah, M.A., PhD. with his topic titled "Integrity in Taking Online Test in ELT" confirms that increasing integrity in taking online tests by developing classroom-based online assessments reduces the potentials for cheating. The third discussion titled "Incorporating the Flipped Learning Approach (FL) to Learning Development Sessions: Action Research of Creative Arts University" by Dr. Robert Chang stipulated that flipped learning encourages active learning and enhances students' attention and participation in entire class activities, and its success lies in students' engagement in pre-lesson tasks.
In his opening speech, the committee chairman, i.e., Muhamad Hasbi, M.A. (IAIN Salatiga, Indonesia) reported that this event was attended by a total of 220 participants of which 53 of them are IELA members and the other 167 are teacher-lecturer-university student participants. To be noted, IELA offers individual and institutional membership where holders will be gathered in a virtual group and will gain several benefits such as attending IELA events with free registration, having eligibility for publication or event collaboration with IELA, and many more. On a similar note, Assoc. Prof. Daniel Ginting (Ma Chung University, Indonesia), the IELA's president, added that this event was IELA's second webinar collaboration after the first one with Manado State University which was held in March 2021. Therefore, any person and institution who are interested to establish such cooperation are advised to register as an IELA member and contact IELA for further leads on that.