BOOK TALKS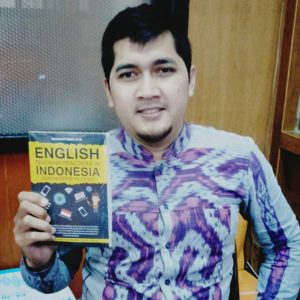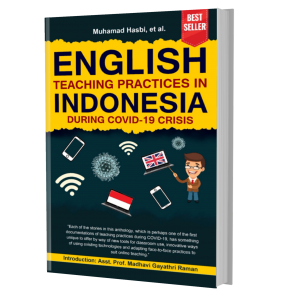 The covid-19 tsunami has not only impacted on people's health life but much severely on all aspects of life including education. The sudden shift from classroom to distance teaching was a big shock to most educators including foreign English teachers around the world, and Indonesian English teachers are no exception. The existence of a good handbook that can guide practically on the online TEFL has been paramount but in contrary there is barely one at present. This matter has initiated a group of Indonesian English teaching practitioners to unite and compose a book together titled "English Teaching Practices in Indonesia During COVID-19 Crisis" which was initially issued in September 2020.
The anthology gathers thoughtful chapters on good practices of distance English teaching written by a total of 34 authors who are currently teaching English in either university, school, or course institution. Each author shares about their current teaching background, challenges, practices, and evaluation comprehensively in 2300-2700 word long of narration. Discussing a great number of teaching issues from school to university level to non-formal education along with reflective and recommendable online teaching platform selection and pedagogical practices, this book offers a constructive guide to its readers. Chapter 1 of the book titled "Going Digital With Instaclass and Self-Paced Projects", for instance, provides step-by-step guidelines on applying teaching with Instagram and self-project activities that achieve teaching goals despite the technological barries the pandemic has brought to table for both teachers and students. Another example, Chapter 9 titled "WhatsApp Group: Between Playing and Learning English" does not only review the affordances of WhatsApp group features in ELT but explore the examples of their strategic utilization for language teaching and present them to the class entertainingly to students such as by having WhatsApp games. The other chapters highlight pedagogical activities using other strategies and online applications where all in all provide a good reference for teaching online during COVID-19 pandemic.
In addition to having a theme relevant to today's teaching context, this book is very Indonesian because authors are from all over Indonesia thus the diversity of the teaching contexts such as the ones in the city and in more rural areas are covered. This book presents majorly practice-oriented articles rather than theoretical ones, that makes the lessons being delivered more applicable to adopt by the readers in their own distance classrooms. Furthermore, scanning throughout its chapter by chapter can incite inspiration for the readers for writing a research article or book on the theme of COVID-19 pandemic impacted ELT practices. In conclusion, this anthology is worth reading for those seeking out aspiration to become an efficient distance English teacher.
Muhamad Hasbi, M.A.
Main author